Details
Apple Macbook Pro MJLQ2/LLA Intel Core I7 2.2GHz 16GB RAM 256GB SSD Intel Iris Pro 5200 15.4 Retina Display 24kt Gold Plated With Certificate
Apple has generously released a plethora of systems in its MacBook 2017 series, from 12-inch to 15-inch every user can get the one system they need. All of the systems are fully upgraded, with the addition of new Kaby Lake Processors, Ultra high-resolution displays and with a sufficient number of ports. Apple incorporated the new Kaby Lake processors without discrimination in all of its latest releases, whether they were full sized 15 inches or smaller models like this one - MacBook MNYK2. With the same stream lined design and added the power of Intel's Kaby Lake Processors these systems are here and will stay for a long while without any competition in foreseeable future.
If you chose to buy the latest Macbook 12 MNYK2 2017 model, you will get a number of powerful features, few of them are:
Powerful Core M3 (Kaby Lake) Processor of MNYK2
The first and foremost thing is the new improved Kaby Lake processor by Intel. MacBook 12 MNYK2 2017 has a Dual Core M3 processor, which normally operates at 1.2GHz and in times of need, Turbo Boosts can increase its frequency easily to 3.0 GHz. The M3 series processor is on a smaller level, but not in terms of performance, in a smaller model like this one (MNYK2) it operates perfectly. Giving you a smooth working machine which can handle almost any thing that you would expect from a 12-inch Macbook. The new series of processors also support a higher amount of RAM; a maximum amount of 32GB can be installed, which gives you more options in case you want to go for an upgrade later. With increased Clock speeds, a silent deck which doesn't heat up and fry your legs, you will surely enjoy the high level of performance that (MNYK2) 2017 offers.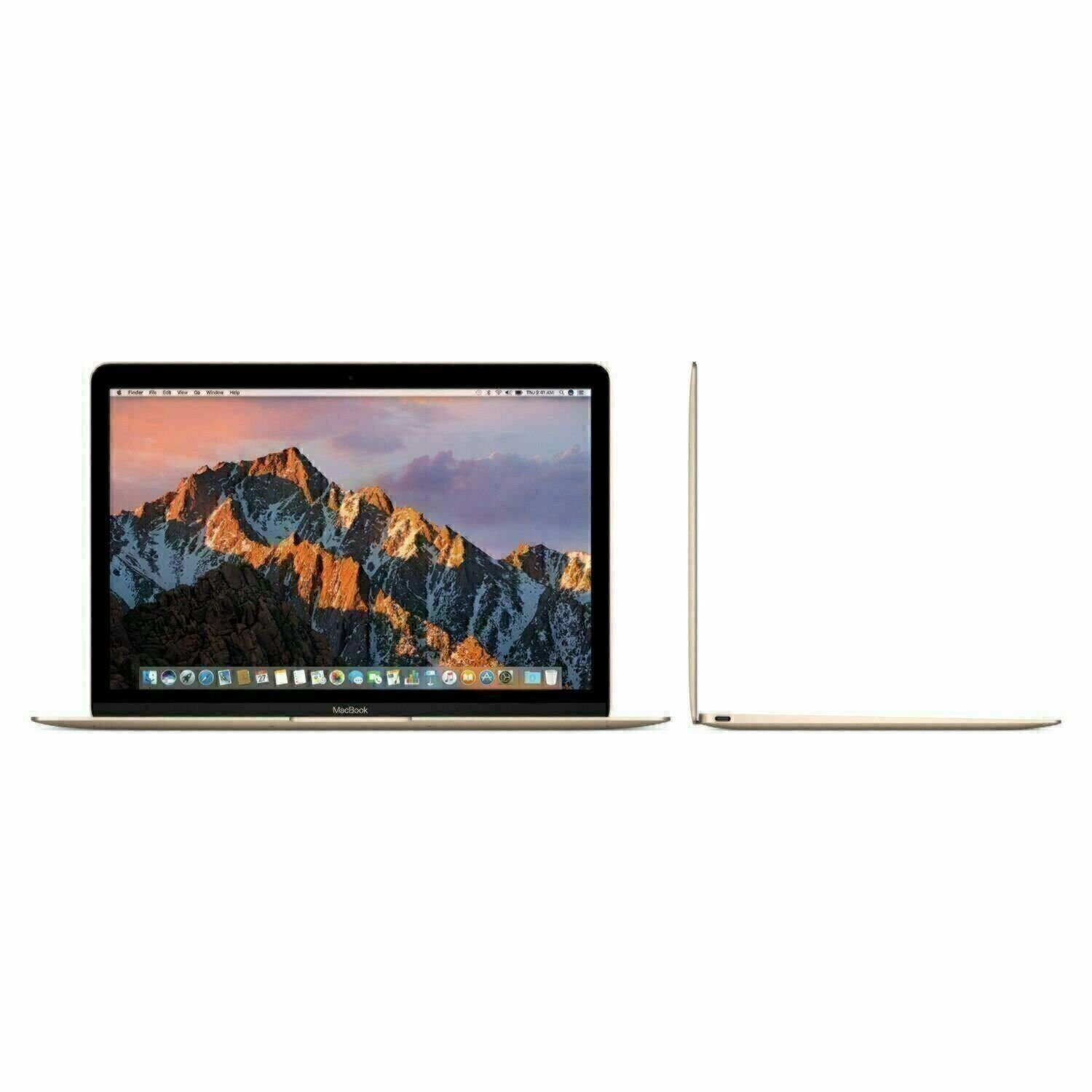 Built in 8GB LPDDR3 RAM
Along with the processor, most of the software, whether it is a software you use for work or is a game - requires an adequate amount of RAM to operate without problems. The MNYK2 (2017) deals with this factor by including a built in 8GB RAM, which will make sure that all of your applications run without getting slow or showing any signs of lags. The RAM standard is an upgraded LPDDR3, which brings with it several different improvements, from better memory management to intelligent resource allocation, all these things for you; so you get an unmatched performance from your MNYK2 12-inch MacBook. 8GB RAM also makes it easier for you to multitask, by prioritizing the memory resources it ensures that the application that you're currently using as well as the one that is sitting idly gets enough and a reasonable amount of memory.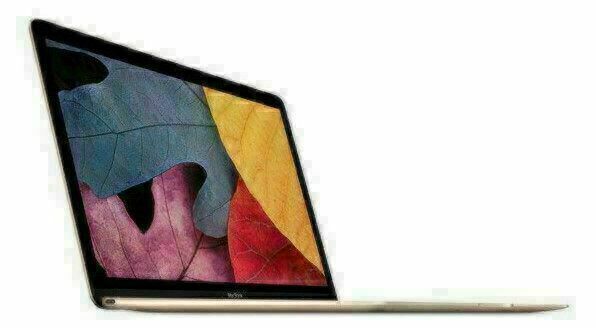 High Definition Retina Display of MNYK2
Apple not only upgraded the processor of its latest MacBook 12 (2017) Series but also improved its Display. The newer Retina Display on (MNYK2) 2017 has a default resolution of 2304x1440, and it also supports a number of smaller combinations like 1440x900 and the standard 1024x640. The Aspect ratio is 16:10 giving you a wide and vivid image quality, whether you are watching an HD movie or enjoying a Game, you will notice the crystal clear display on MNYK2 MacBook's 12-inch screen.
Apple ditched the RGB color spectrum and improvised with another one which gives you a whole new range of color support (More than a billion colors are now supported) which means you can get more from your images and movies. The brightness is also improved, with 500nit brightness you will be able to enjoy a whole new level of image quality and image clarity, without any form of distortions in your screen.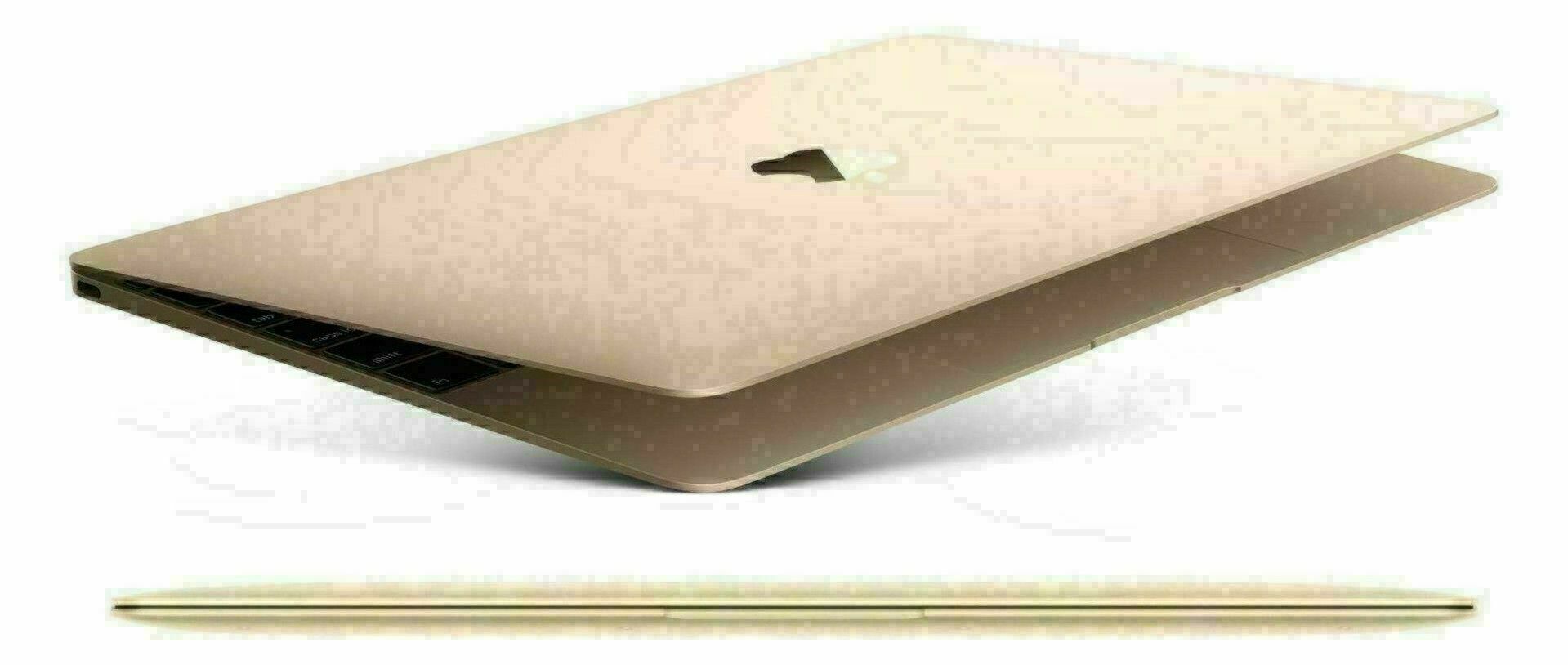 Enough ports to keep you connected to 12-inch Macbook
With a slim and trim design, ports and such smaller hardware parts gets compromised on, but not on Macbook 12 (MNYK2), you will get three USB ports with the latest USB Type C (3.1, 1st Generation) which has a data transfer rate of about 5GB/per second, so you can copy your important files rapidly without having to wait by your notebook for hours. It also has a Display Port 1.2 for video output, the VGA output uses the USB type C multi port adapter, so you can keep working on two displays simultaneously. An HDMI port is a necessity in today's age, important presentations etc. Can be easily given by using the HDMI video output port which uses the same USB Type C AV Multi port, which makes sure that your videos and slides don't look slow or out of sync.
Apple has always been associated with quality products, especially when it comes to MacBooks, they have never compromised on either design or specs.
The above-mentioned features barely touch the surface of what you will get in your New MacBook 12 MNYK2 (2017), there are a number of other high-quality features that you will enjoy like a 720p HD Front camera, a faster and improved GPU etc. So enjoy these features you should get your hands on this powerful little machine ASAP.
Popular products with unpopular price range. Get the Apple MacBook 12 MNYK2 24kt Gold Plated , available at the biggest site of online shopping in Pakistan. Go crazy and go carting, now!
Additional Information
Purchase Protection
Yes
Specification

| | |
| --- | --- |
| Processor Type | Dual-core Intel Core M3 with 4MB L3 cache |
| Processor Speed | 1.2 GHz Turbo Boost up to 3.0 GHz |
| Installed RAM | 8 GB |
| Type of memory | 8GB of 1866MHz LPDDR3 onboard memory |
| Hard drive size | 256GB PCIe-based onboard SSD |
| Hard drive speed | - |
| Optical Drive | No |
| Type of optical drive | - |
| SSD | 256 GB SSD |
| Type of harddrive | PCIe-based onboard SSD |
| Internal/External | External (Optional) |
| Card Reader | No |
| Type of memory cards | - |
| Dedicated graphics | No |
| Graphics memory | Intel HD Graphics 615 |
| Type of graphics memory | Shared |
| Switchable graphics | No |
| Graphics processor | Intel |
| Maximum shared graphics | - |
| Aspect ratio | 16:10 |
| Backlight | LED |
| Screen size | 12" diagonal Retina LED-backlit display with IPS technology |
| Screen surface | Diagonal Retina LED-backlit display with IPS technology |
| Screen resolution | 2304-by-1440 resolution at 226 pixels per inch with support for millions of colors |
| Touchscreen | No |
| Condition | New |
| Colors | No |
| Color | Gold |
| Dimensions (WxHxD) | Height: 0.14–0.52 inch (0.35–1.31 cm) Width: 11.04 inches (28.05 cm) Depth: 7.74 inches (19.65 cm) |
| Weight | 2.03 pounds (0.92 kg) |
| Fingerprint Reader | No |
| Numeric keyboard | No |
| Backlit keyboard | Full-size keyboard with: 78 (U.S.) or 79 (ISO) individual LED backlit keys, including 12 function keys and 4 arrow keys |
| 3G | No |
| EDGE | No |
| Bluetooth | Yes |
| Type of bluetooth | Bluetooth 4.2 wireless technology |
| LAN | No |
| Speed | - |
| Modem | No |
| Wireless/Wifi | Yes |
| Type | 802.11ac Wi-Fi wireless networking; IEEE 802.11a/b/g/n compatible |
| Infrared | No |
| DVI out | No |
| USB | Yes |
| USB 2.0 | - |
| USB 3.0 | - |
| USB Ports (Total) | 1 = USB-C port with support for: Charging USB 3.1 Gen 1 (up to 5 Gbps) Native DisplayPort 1.2 video output |
| TV-out | No |
| Serial port | No |
| S/PDIF out | No |
| Parallel port | No |
| Microphone input | Dual microphones Builtin |
| Headphone output | 3.5 mm headphone jack |
| Firewire | No |
| eSATA | No |
| HDMI | No |
| Number of outputs | - |
| HDMI version | - |
| VGA Output | No |
| Battery life | Up to 10 hours wireless web, Up to 12 hours iTunes movie playback, Up to 30 days of standby time |
| Battery type | lithium-polymer battery |
| No of cells | Built-in 41.4-watt-hour |
| Camera | Yes |
| No. of effective pixels | 480p FaceTime camera |
| Remote Control | No |
| 32/64-bit OS | - |
| Operating system (Primary) | macOS Sierra |
| OS (Secondary) | No |
| Included software | No |