Details
Fitbit Surge Fitness Super Watch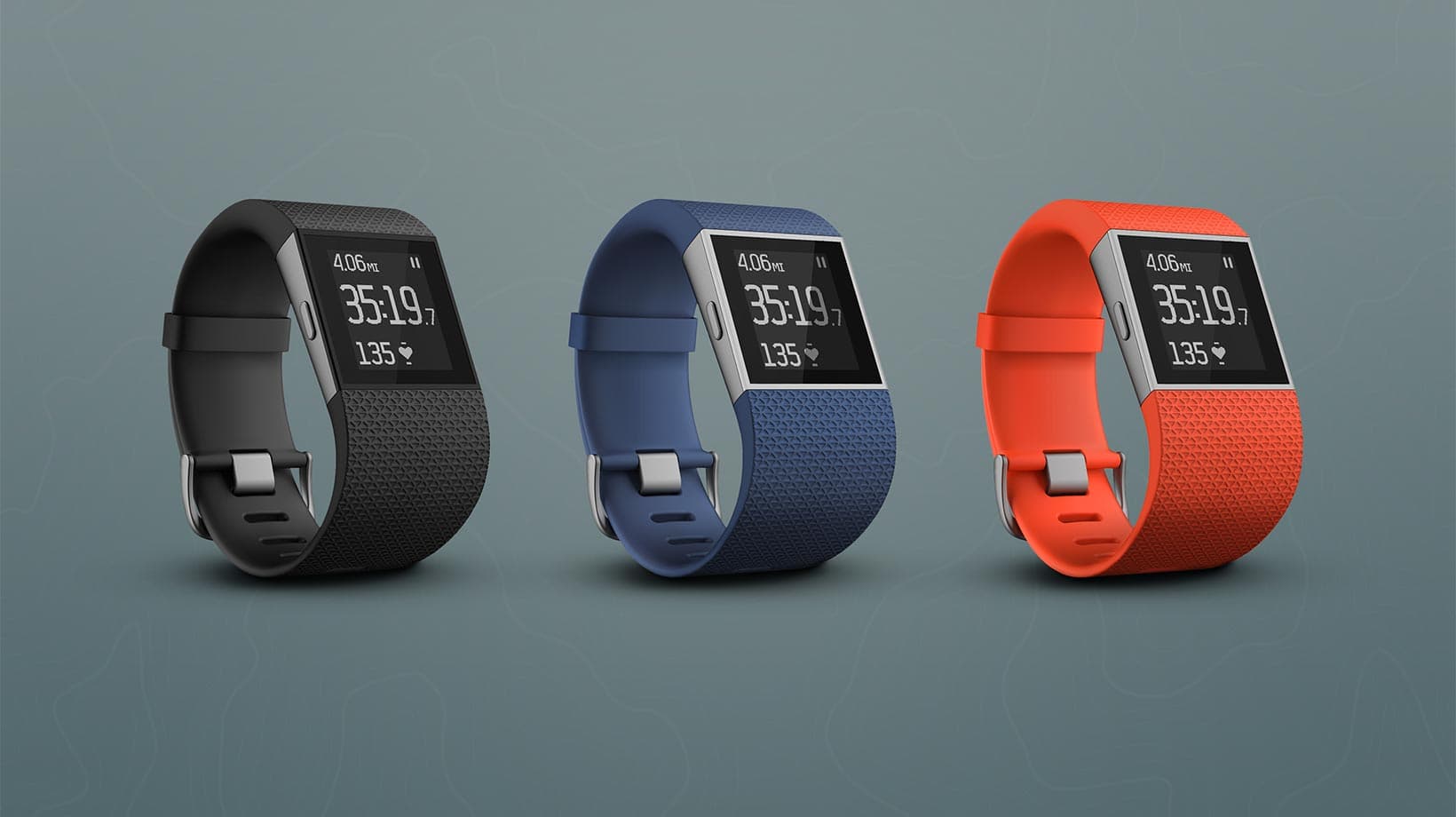 Train smarter and go farther with Surge—a sleek, fitness super watch designed to help you reach your peak performance. With built-in GPS, multisport functionality, and automatic, continuous heart rate, Surge delivers the stats you need to measure your effort and maximize your training time. Add activity tracking, automatic sleep detection, music control, and text and call notifications, and you have everything you need to stay connected, motivated and in the zone—no matter what goal you're working toward.
GPS Tracking
See distance, pace, split times and elevation climbed & review routes
Long Battery Life
Lasts longer than competing trackers with a battery life up to 7 days and GPS battery life up to 10 hours
PurePulse™ Heart Rate
Get continuous, automatic, wrist-based heart rate & simplified heart rate zones
Notifications + Music
See call & text notifications on display and control songs from your mobile playlist
All-Day Activity
Track steps, distance, calories burned, floors climbed & active minutes
Auto Sleep + Alarms
Monitor your sleep automatically & set a silent alarm
NEW
SmartTrack™ + Multi-Sport
Track runs, rides & other workouts with multi-sport modes or automatically record them with SmartTrack
Wireless Syncing
Sync stats wirelessly & automatically to leading smartphones and computers
GPS TRACKING
Create your own path.
Track it with GPS.
Don't just start. Surge—with run time, distance, pace and elevation stats on display. See split times real time. Scroll through workout summaries and review routes after you run them to stay on track while you train.
PUREPULSE™ HEART RATE
Pursue your passion.
Maximize training, maintain intensity and monitor calorie burn with automatic wrist-based heart rate monitoring. With continuous heart rate readings, Surge keeps you in the zone—all day and during workouts.
No straps. No clips. No guessing.
SEE THE BENEFITS OF HEART RATE TRACKING
Continuous, strap-free
heart rate monitoring
PUREPULSE™ HEART RATE
Pursue your passion.
Maximize training, maintain intensity and monitor calorie burn with automatic wrist-based heart rate monitoring. With continuous heart rate readings, Surge keeps you in the zone—all day and during workouts.
No straps. No clips. No guessing.
ALL-DAY ACTIVITY
Life on the move.
Stats on display.
Built with eight-sensor technology and best-in-class battery life, Surge transitions seamlessly from work to workouts—tracking real-time stats like steps, distance, heart rate, active minutes, calories burned and more, to keep you in the know, on the go.
MULTI-SPORT + SMARTTRACK™
Track it. See it.
Beat it.
With multi-sport functionality and SmartTrack™ automatic exercise recognition, Fitbit Surge lets you track every aspect of your training. Use multi-sport modes for the most precise tracking during workouts and real-time stats on display. Or rely on SmartTrack to automatically recognize and record select exercises for you. However you choose to measure your effort, in-app workout summaries will help you gauge performance improvements.
Connect your Fitbit and Strava accounts, and every workout you record on Surge will be automatically uploaded to your Strava profile.

CONNECT FITBIT TO STRAVA
NOTIFICATIONS + MUSIC
Work hard.
But, also, work better.
Designed with advanced smartwatch features, Surge lets you run your day, your way. Text and call notifications keep you on your game throughout the day, while music control helps you find the motivation you need to prepare for a big meeting or beat your best in a big race. View compatible devices.
AUTO SLEEP + ALARMS
Quantified sleep.
Quality data.
Make the most of your day by getting more out of your night. Surge automatically monitors how long and how well you sleep, syncs those stats to your smartphone and computer, and displays your trends as detailed charts on the Fitbit dashboard. Plus, it has a silent alarm to make waking up easy—even if your training isn't.
WIRELESS SYNCING
See what you've
done, then do more.
Surge automatically and wirelessly syncs to your computer and150+ leading smartphones—showing your stats as detailed charts and graphs—so you can access your progress anywhere.
Everything you need, all in one place.
A SEAMLESS APP EXPERIENCE FROM DEVICES TO DASHBOARD
VIEW PROGRESS

See your progress and analyze your trends with easy-to-read charts and graphs

RECORD WORKOUTS

Get details of each workout, set exercise goals & track progress over time

SHARE & COMPETE

Invite friends and family to share stats, send cheers and taunts, and compete on the leaderboard

LOG FOOD

Log food fast with a barcode scanner, calorie estimator, meal shortcuts & expanded food database

EARN BADGES

Get goal progress notifications & celebrate fitness milestones with badges

SLEEP BETTER

Set sleep goals, review sleep quality & see weekly sleep trend graphs
Specifications
Sizing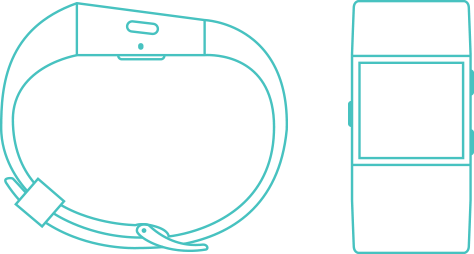 size small
fits wrists
5.5" - 6.3"
size large
fits wrists
6.3" - 7.8"
size x-large
fits wrists
7.8" - 8.9"
Sizing varies across trackers. Use this guide to pick the right fit & size up if you're between sizes.
* X-large size only available online at Fitbit.com
Sensors and Components
GPS

3-axis accelerometers

3-axis gyroscope

Digital compass

Optical heart rate monitor

Altimeter

Ambient light sensor

Vibration motor
Display
Touch screen

Monochrome LCD

Backlight for low light visibility
Bike Tracking
When using bike tracking, always pay attention and mind the rules of the road.
Charging cable

Wireless sync dongle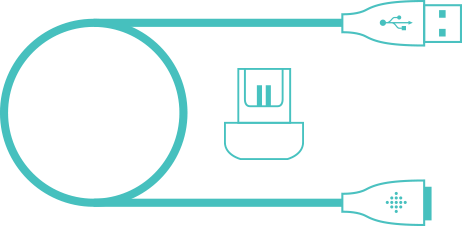 Water Resistance
Surge has been tested up to 5 ATM meaning it is sweat, rain and splash proof. However, the device is not swim proof. We also recommend taking Surge off before showering because, as with any wearable device, it's best for your skin if the band stays dry and clean.
Care
If the band gets wet or if you sweat in it, remove and completely dry the band before putting it back on. Clean the band with a mild soap-free cleanser like Cetaphil or Aquanil. Give your wrist a rest by taking the band off every now and then. Learn more.
Materials
Surge's wristband is made of a flexible, durable elastomer material similar to that used in many sports watches. Surge also has a surgical-grade stainless steel buckle.
Heart Rate
Like all heart rate monitoring technologies, accuracy is affected by physiology, location of device, and different movements. Learn more about wear during workouts.
Battery and Power
We recommend charging your Surge every few days to ensure you are always tracking.
Battery life: last up to 7 days

GPS Battery life: last up to 10 hours

Battery type: Lithium-polymer

Charge time: One to two hours

Radio transceiver: Bluetooth 4.0
Environmental Requirements
Operating temperature: -4° to 113°F

Maximum operating altitude: 30,000 feet
Memory
Tracks 7 days of detailed motion data – minute by minute.

Tracks daily totals for past 30 days

Stores heart rate data at 1 second intervals during exercise tracking and at 5 second intervals all other times

Sample rate for GPS is 1 Hz
Syncing
Surge syncs automatically and wirelessly to tablets, computers and 150+ leading iOS, Android and Windows smartphones using Bluetooth 4.0 wireless technology.
Syncing range: 20 feet

Notifications: Text and call via Bluetooth 4.0

Music control: via Bluetooth Classic

Syncing to computers requires Internet connection and USB port

Syncing to mobile devices requires Bluetooth and Internet connection

Syncs with Windows Vista and later, Mac OS X 10.6 and up, iPhone 4S and later, iPad 3 gen. and later, and leading Android and Windows devices
Telemart offers you the best Fitbit Surge price in Pakistan! What are you waiting for? Start carting and shopping only at Telemart.pk!
Additional Information
| | |
| --- | --- |
| Purchase Protection | Yes |
| Strip Type | Rubber |